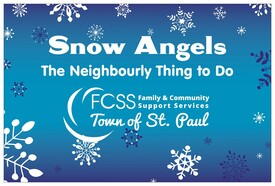 Snow Angels PROGRAM
A campaign to encourage Town of St. Paul residents to be good neighbors and help those in need.
BE a Snow Angel?
Look for a Snow Angel Sign in the front yard of your neighbor and simply shovel their walks. They may be elderly, with mobility issues, or recuperating from an illness or surgery. Here is map of current residents that need help.
NEED a Snow Angel? 
Please stop into our office to register.
NOMINATE a Snow Angel?
Call us and we will enter their name into a MONTHLY DRAW, 780-645-5311!
"HELPING people, makes our world a better place!"
Snow Angels are invited to call FCSS and have their name added to the Snow Angels List. We will call you if there is someone in need.